GMT GRANITE TRI SQUARE
The GMT Granite Tri-Square finds application in checking the X-Y-Z axes on CNC machines, milling machines, CMM's. Therefore all six sides are lapped to maintain flatness, squareness and parallelism. It is made of Indian Black Granite and provided with through-holes for weight reduction and ease of handling.
The GMT Granite Tri-Square provides an excellent, economical way for accurately checking the X-Y-Z axes. Hence, you can use it to calibrate CNC machines, milling machines and coordinate measuring machines. Besides, you can use GMT Tri-Squares in the same manner that you use steel squares to check the straightness and squareness of components.
To check for squareness (X & Y axes), mount the Tri-Square in the horizontal position. Next, to check the perpendicularity of the Z-axis, Mount the Tri-Square in the vertical position and trace along the vertical edge of the square.
GMT calibrates all its metrology products with Electronic levels and other devices certified by the NABL procedures. Therefore, you can be sure that the quality of all products you inspect with the product is traceable for accuracy.
Features
Granite Tri-Squares to check X, Y and Z-axes of CNC Machines.
Precision Tri-Squares are available in Laboratory Grade or Inspection Grade.
GMT granite Tri-Squares are made from famous Indian Black Granite.
This fine-grained stone is denser than other colours, has fewer inclusions and is more stable as a metrology reference.
Provides comparatively chip-resistant, durable and stable surfaces.
GMT Black granite Tri-Squares are more durable and do not scratch easily.
SPECIFICATIONS
| Dimensions (mm) | Thickness | Weight (Kg) | Grade 0 (µ) |
| --- | --- | --- | --- |
| 300 x 200 | 70 | 10 | 3 |
| 400 x 200 | 70 | 13 | 3 |
| 500 x 200 | 70 | 15 | 5 |
| 630 x 400 | 75 | 26 | 5 |
| 800 x 500 | 90 | 70 | 5 |
| 1000 x 630 | 120 | 140 | 10 |
CUSTOM SIZE GRANITE TRI-SQUARE
Apart from the above sizes, Guindy Machine Tools also manufacture Tri-Squares as per customer requirement. Shown below is a special extra-large sized Tri-Square manufactured by GMT.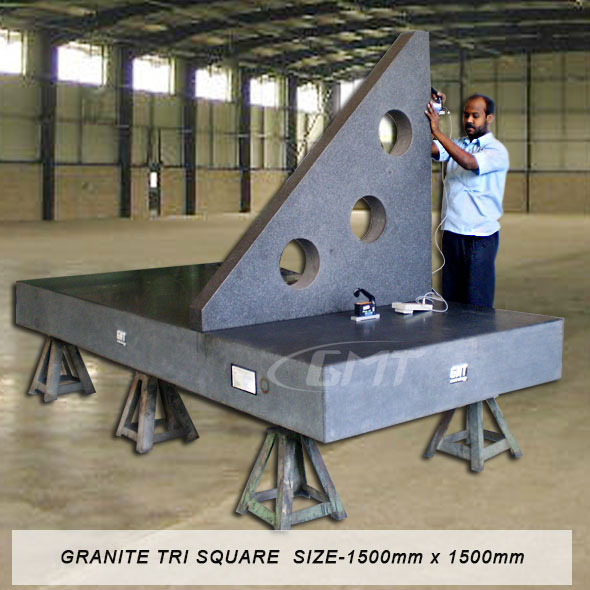 Also, please visit us at https://gmtmachinetools.blogspot.com – a new blog dedicated to all GMT customers…interact with our technical experts.