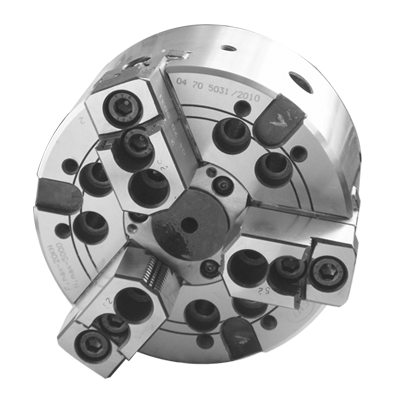 GMT CNC Lathe Chuck rotates at high speeds, suitable for modern turning centres. Power Operated Three Jaw Chuck with Through Bore (PHNC) is one of India's largest selling and most trust chucks for CNC Lathes and turning centres.
Standard sizes available (3 jaw) 135mm, 165mm, 200mm, 250mm, 315mm, 400mm and 500mm. Two Jaw and 4 Jaw chucks with through bore are available on request.
POWER OPERATED THREE JAW CHUCK WITH THROUGH BORE (PHNC) :
GMT Power Operated Hollow High-Speed Chucks rotate at high speeds on CNC lathes. The compact construction of GMT CNC lathe chuck offers the further advantage of less weight and low inertia, which positively influence the dynamic effect of the CNC machine spindle. These power chucks have a large through-bore and are therefore suitable for bar work. The base jaws and top jaws weigh less in these chucks.