GMT at IMTEX 2023
Serving the Indian Metal Cutting Metalworking Industry steadily with Quality and Commitment since 1959
Dozens of Lathe Chucks and Cast-Iron and Granite metrology equipment to choose from.
The Indian Machine Tool Manufacturers' Association (IMTMA) organized the 20th edition of South and Southeast Asia's biggest exhibition on machine tool and manufacturing technologies at Bangalore International Exhibition Centre (BIEC), Bengaluru, from 19 – 25 January 2023.
IMTEX is a flagship event, organized every two years, for the Indian metal cutting industry and showcases the latest trends as well as technological refinements from India and other global players.
Preparing for the show
GMT's Designers and Marketing and Sales Team had a lot of fun preparing for the show. This is not to decry the stress and effort they put into the pre-show tasks of choosing the products, preparing the publicity material, and ultimately setting up the booth at the venue.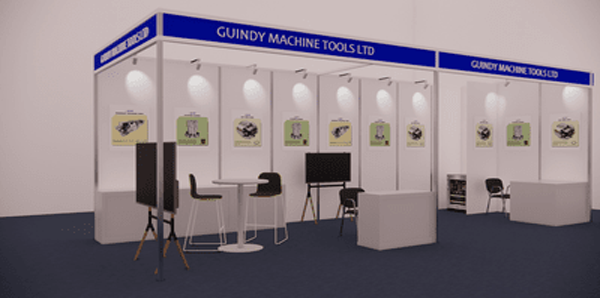 3D MODEL OF THE BOOTH PRIOR MADE WHILE PLANNING EXHIBITION
We even had the booth modelled to see how it would look. Of course, at the last minute, we could not accommodate one of the monitors as per the 3D model of the stall which we had prepared earlier, but that is what happens at shows! We had to place it awkwardly within the space available.
The hard work put in by the publicity team only shows in the result, and the fact that the videos attracted a lot of customers.
CHECKING PRODUCTS TO BE DISPLAYED PRIOR TO THE EXHIBITION
At the Show
For the first time, GMT has chosen to display fewer products physically and more on screen. GMT has close to a hundred different lathe chuck designs and it would be impossible to showcase our capabilities with posters alone. Overall, we are very pleased with the footfalls in our stall, and there were a number of enquiries and orders for our lathe chucks and surface plates.
Customer Response at IMTEX 23
The response has been phenomenal.
Now that all are dusted and done with the preparation, participation in and return from the exhibition, we thought we would share some photos of customers discussing their requirements at IMTEX 23 with us.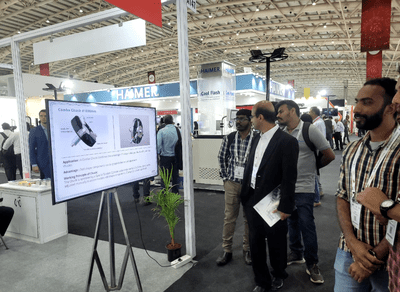 VISITORS WATCHING THE VIDEOS AT THE GMT BOOTH IMTEX 23
Our Services
GMT has a standard range of chucks and surface plates. Apart from this, GMT can make chucks and metrology equipment to order as per customer specifications. Check our products page at to get an overview of our complete product range.
We can develop chucks to suit your needs. Please send us your requirement drawings in pdf or jpg formats and we will call you back or arrange for our experts to visit you. You could also visit us at our headquarters in Chennai to discuss your needs. Complicated designs need the involvement of the designers as well.
We can also develop granite structures for machines like 3D Printers, CT Scanners & Optical Lens Finishing Machines. These structures can be custom built for any application which requires vibration damping and temperature stability. In addition, GMT can also make cast-iron structures for special applications.
Furthermore, GMT provides a wide range of services for its products. Please check here for details for workholding services. Please review for information of services provided by the Metrology division at Hosur.
We are happy to address your enquiries in detail. Please contact us.