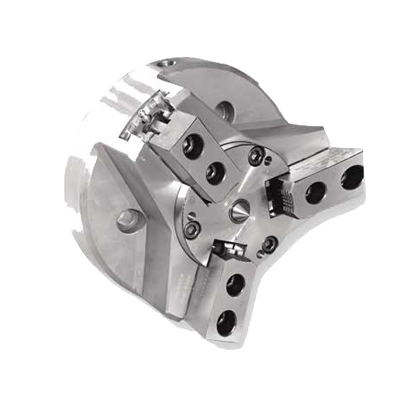 The GMT Eccentric compensating Chuck is designed for machining forgings and black bars between centres. For this application, GMT Eccentric compensating chucks comes with a spring-loaded centre. The function of this spring action centre is to ensure that the component rests against the chuck face. CALL +91 87544 83577 or mail us at esales@gmt.co.in
Furthermore, we can supply a special cover, so that the chuck can also be used as a self-centring type of chuck, at extra cost.
DESIGN OF THE ECCENTRIC COMPENSATING CHUCK
The GMT Eccentric compensating chuck is designed for components which are usually mounted between two centres. So, you have to mount one side of the component on the spring action centre on the chuck body and the other on the tailstock of the machine. Mounting on centres defines the line of centres, for precision concentricity.  The jaws adjust and accommodate the lack of concentricity between the centre line of the component and its outside diameter.
In this chuck, a radially floating wedge actuates the jaws. This wedge is operated by a power (hydraulic or pneumatic) rotating cylinder or by an electromechanical actuator. The purpose of this floating wedge is to accommodate and compensate the irregularities in the roundness of the black bar or component. The chuck body and wedge can withstand heavy cutting loads. The floating wedge can also withstand high operating forces. The floating wedge, with its mechanical advantage, converts the operating force into a high clamping force.
CONSTRUCTION
The chuck has a forged steel body, of optimal weight, so that it is light and hardened and ground slideways. The floating wedge and base jaws are of nickel-chrome steel. They are case hardened and ground on all working surfaces.
All this results in uniform smooth movement of jaws and robust gripping of the component. The deep, wide, hardened slots in the body, guide the base jaws, resulting in ample bearing area necessary to withstand the forces resulting from high gripping and cutting forces. There is provision for manual lubrication of the sliding surfaces periodically through grease nipples. Serrations are provided on the top face of the base jaws.
SHAPED SIZES ARE SPECIAL
Each chuck comes with – one set of body clamping screws, one set of jaw screws, one number spring loaded centre and one number box spanner for adjusting the drawbar. Please note that, we do not supply Hard Jaws and Soft Jaws with the chuck. Special Hard Jaws, and Soft Jaws, special cover solid centre can be supplied on request at extra cost.