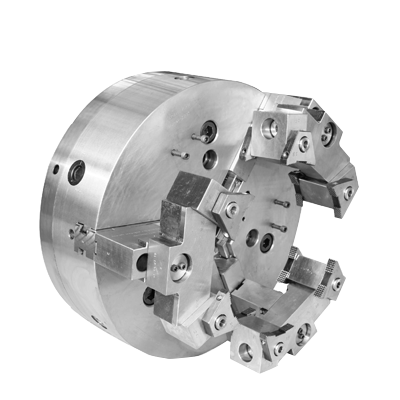 CNC Lathes are used particularly to machine small and medium sized batches. This involves frequent changeover of the chuck jaws. Quick change jaw chuck eliminates the need for multiple chucks. Power Operated Quick Change Jaw Chuck provides a super high speed range.
THE DESIGN
GMT is one of the leading power chuck manufacturer in India. Our workholding range includes power chuck with a quick change jaw system. This chuck helps in reducing the jaw changing time to a minimum. The wedge bars help to counteract the effects of centrifugal force. This is by setting them into the angled pockets in the body of the chuck.
Moreover, the angles chosen by GMT for the piston shoulders and wedge bar teeth provide high mechanical efficiency ratio that provides for both sensitive and high pressure clamping. To withstand the most arduous working conditions, all PHQC chucks have a high factor of safety. Proximity switches in the rotary cylinders control the signals concerning the state of the chuck i.e. clamping or de-clamping.
THE WORKING
The Power chuck is different from other chucks. Its quick change jaw system has the inherent advantage for rapid resetting or changing of the gripping jaw. It is only necessary to release an eccentric locking pin with a special hexagonal key in each of the jaws keeping the chuck stationary. This disengages the gripping jaws. It can be reset to the required gripping diameter or can be reversed or can be replaced by a jaw from another set. Turning the key again re-engages the gripping jaw and enables the key to withdraw and this operation provide great reliability.
PHQC chucks offer an effectively simple but technically advanced design. This satisfies the high demands in both production and safety and modern machining. In addition the chuck offer a genuinely quick change jaw system with a speed and strength combination. As a result there is a increase production and safety.
CLICK HERE TO DOWNLOAD GMT QUICK CHANGE JAW CHUCK TECHNICAL DATA
Finally, please visit us at https://gmtmachinetools.blogspot.in – a new blog dedicated to all GMT customers…interact with our technical experts.